Recycle/Trash Curbside recycling in Ross Township is collected by your trash hauler.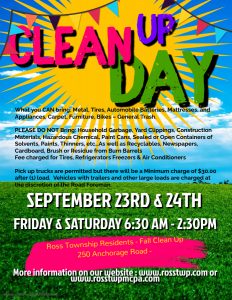 Clean-Up Days are held twice a year, one in the Spring and the other in the Fall.  The drop off area is in the rear of the municipal building.
2022 SPRING Clean-Up:  April 22nd & 23rd         (6:30AM-2:30PM)                    
2022 FALL Clean-Up:  September 23rd & 24th     (6:30AM-2:30PM)
What you CAN bring: Metal, Tires, Automobile Batteries, Mattresses, and Appliances, Carpet, Furniture, Bikes – General Trash.
There is a Charge for tires:
Car & light truck tires………..$4.00 each
Truck tires…………………………$12.00 each
Tractor tires……………………….$15.00 each
All tires on rims are an additional $2.00 each
PLEASE DO NOT Bring: Household Garbage, Yard Clippings, Construction Materials, Hazardous Chemical, Paint Cans, Sealed or Open Containers of Solvents, Paints, Thinners, etc…As well as Recyclables, Newspapers, Cardboard, Brush or Residue from Burn Barrels.
There will be a charge of $20 for: Refrigerators, Freezers & Air Conditioners.
Pick up trucks are permitted but there will be a Minimum charge of $30.00 after (1) load.  Vehicles with trailers and other large loads are charged at the discretion of the Road Foreman.
Any Resident with electronics only will not be charged any fees.
Click here for List of Accepted Items for Electronic Recycling
For Litter Control information you can go to their website www.wasteauthority.com
The Waste Authority can be called for dead deer removal, you can call on their toll free number at 1-888-502-6055.
Regular household removal is the responsibility of the homeowner please contact one of the Private Haulers: Waste Management 610-863-2395 or County Waste 570-382-3304.
Anyone interested in cleaning up along the roadway of their neighborhood is welcomed to stop by the Township office during normal business hours to pick up trash bags for this purpose.  This can be a great and environmental friendly way to enjoy a beautiful spring day and take pride in keeping your community clean.